There's already a Tony in the band so we were relieved that this one had a nickname - Binky, as in Death's horse from the Terry Pratchett books; Binks for short. He would like it known that despite the "Free Binky" advertising campaign currently being run for the Dodge Caliber, he is not a guest of any of H.M. Prisons. We also call him "The Sheriff" after Robin Hood's nemesis, the sadistic mediaeval tax collector - he just looks like him!

His musical career path was destined to be in the woodwind section of one of the world's great orchestras but unfortunately, due to dyslexia, the course he enrolled on at the Royal College of Music was Woodwork. Eventually he turned his back on the world of classical music and discovered rock music was more fun and had a lot less notes. The organ sound of Deep Purple's Jon Lord caught his ears and he discovered that a guitar distortion pedal turned a tame cabaret-sounding organ into a rock monster. He played with several rock and blues-rock bands in the early 80's, notably In the Evening and Wild Rose. Also, he did a few cabaret shows in disguise - but don't tell anyone about that. Briefly he was involved in the Stourbridge scene of the mid 80's joining One Sun Apart after Rob Jones left for the Wonderstuff while Floyd Brennan later went on to Ned's Atomic Dustbin.

After that he joined Sneakin' Suspicion - the first of several bands with our bass player, Tony Cole, but we try not to hold that against him. Once he'd got into one band with our Tony, he couldn't seem to shake him off so on he went into Pig In Shades, Backdoor Blues Corporation, Cockermouth and now The Bootleg Shadows. Pubs, clubs of all kinds, festivals, events, town halls, theatres, cafes, bars and restaurants - too many to count and after over 25 years of gigging, many more to come he hopes.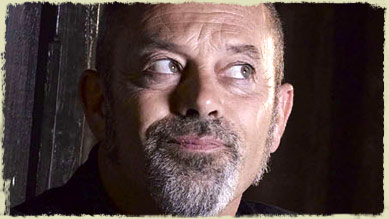 Tony - Moonlighting as the Sherriff of Nottingham